One big point on my list of things to do while I'm in Cairns was diving at the Great Barrier Reef, said to be one of the best diving sites in the world. As I never had dived before the obvious solution was to do a so called intro dive. That's a day trip to the reef with snorkeling and one scuba dive. Those trips cost (on a decently fast boat) about $180 to $230 for the day.
When I mentioned my plans to Andy he pointed out that due to the weak season (hello economy crisis) several companies cut the prices for their dive courses and there was some nice discounts out there. That way I'd get a four day dive course with two days in the pool and two days (five dives) at the reef for twice the price of a day trip. Plus I'd be a certified diver afterwards and could basically go diving on my own everywhere in the world.
Took me a couple of days before I made the decision to do the course. Unless I'd totally dislike diving it was too good a deal to pass on.
Day 1, Sunday
Trying to get into a course with as few students as possible I booked one that starts on Sunday. Worked well, besides me there were just two other guys in the classroom. The morning of this first day was filled with theory and getting a medical examination by a doctor. The doc certified me fit for diving and we went to the swimming pool after lunch to have some practical education.
We started with collecting the gear and for scuba diving that's a lot you have to collect. Tank, BCD, regulator, weights, fins, mask and wetsuit to be precise. For the next two hours we practised basic skills and got ourselves used to handling the gear.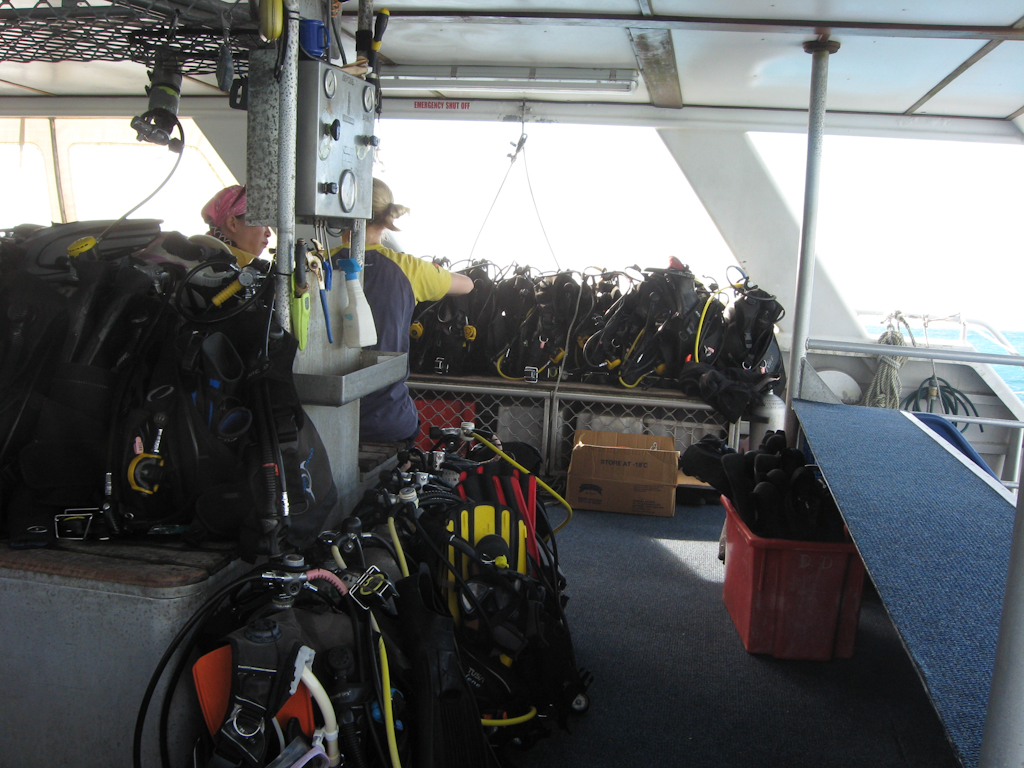 Day 2, Monday
Today we went straight to the pool and started with swimming. Yes, swimming, everybody who wants to be a diver has to be able to swim 200m and stay on the surface for 10 minutes after that. Not too hard so everybody managed to do it and instructor Adam could lead us through two more hours of diving exercise.
In the afternoon we got some more theory and had to pass a final exam afterwards. Everything went well so I was ready for open water now.
Day 3, Tuesday
Reef time! After an early 7:45am pickup at my accommodation I checked in at the office and half an hour later I was aboard SeaQuest, a 23m diving boat fitting up to 80 people. The forecast predicted a sunny day with moderate wind and waves. Excellent conditions for a dive trip.
Upon arrival at the boat I assembled and tested my gear and met our dive instructor for the day, Mark. Our group was down to two people by now as one of the guys would do his open water dives at a later time.
For the drive out to the reef we had wind around 15-20 knots and waves about 1m high. Doesn't sound like much but in combination with the fast boat (18-20 knots) a recipe for a bumpy ride and some white faces. Although I didn't really get seasick me and my stomach were happy when we arrived at the reef 1.5 hours later.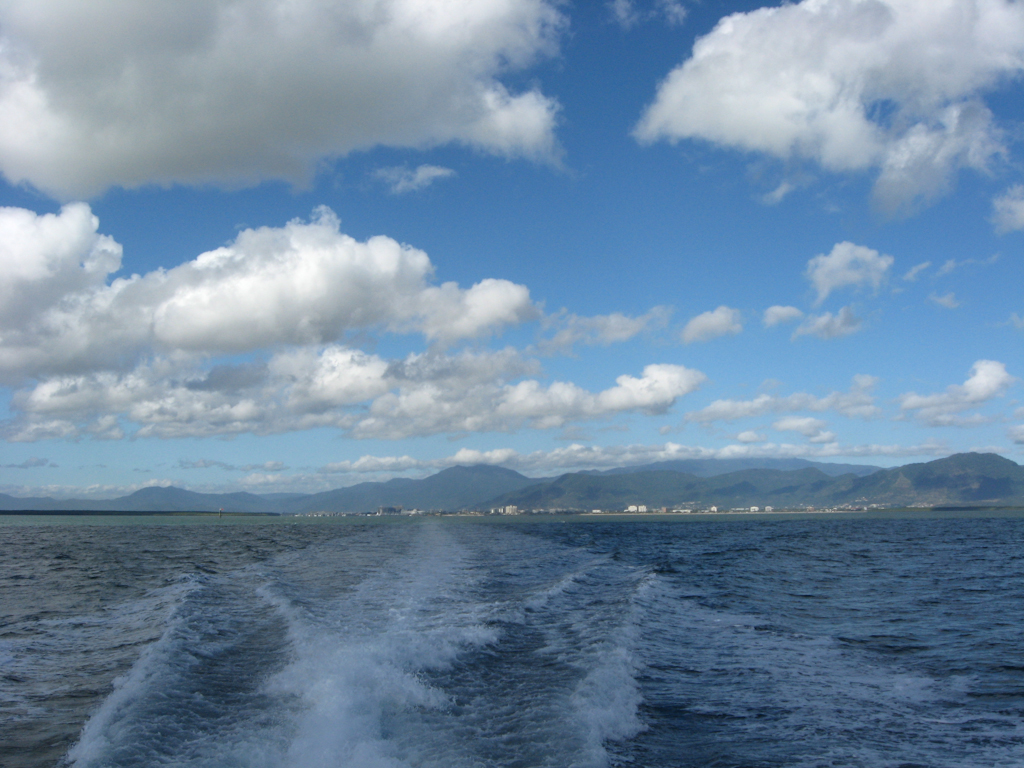 At the reef we had some time to waste before the first dive and I got my gear and went for a snorkel. It's amazing. One moment your swiming in the ocean and the next moment you put your head under water and find yourself looking at another world. A world full of colour, fishes and strange plants. All of them spread on a reef that goes as far as you can see. Well that was about 20m that day, it actually goes much farther.
The first dive was about to start. We got our scuba gear and hit the water. That's where the scuba experience really kicked in. While you're watching another world when snorkeling, you literally dive into that other world when you have scuba gear on your back. Beautiful fishes swimming just centimeters in front of me, big schools of fishes over my head – beautiful!
We explored the underwater world for about half a hour and ended the dive with some basic skills at the surface. The second dive after the lunch break started a little rough. The other guy in the course had trouble getting down to the bottom and I had to wait there for him and Mark for nearly 10 minutes. Ocean's freaking cold when you're just sitting around in it!
Once they reached depth we did the mandatory skills. By now I had a feeling for how to use my gear and it was a great experience to just hover around the reef weightless inmidst all that picturesque fish and coral.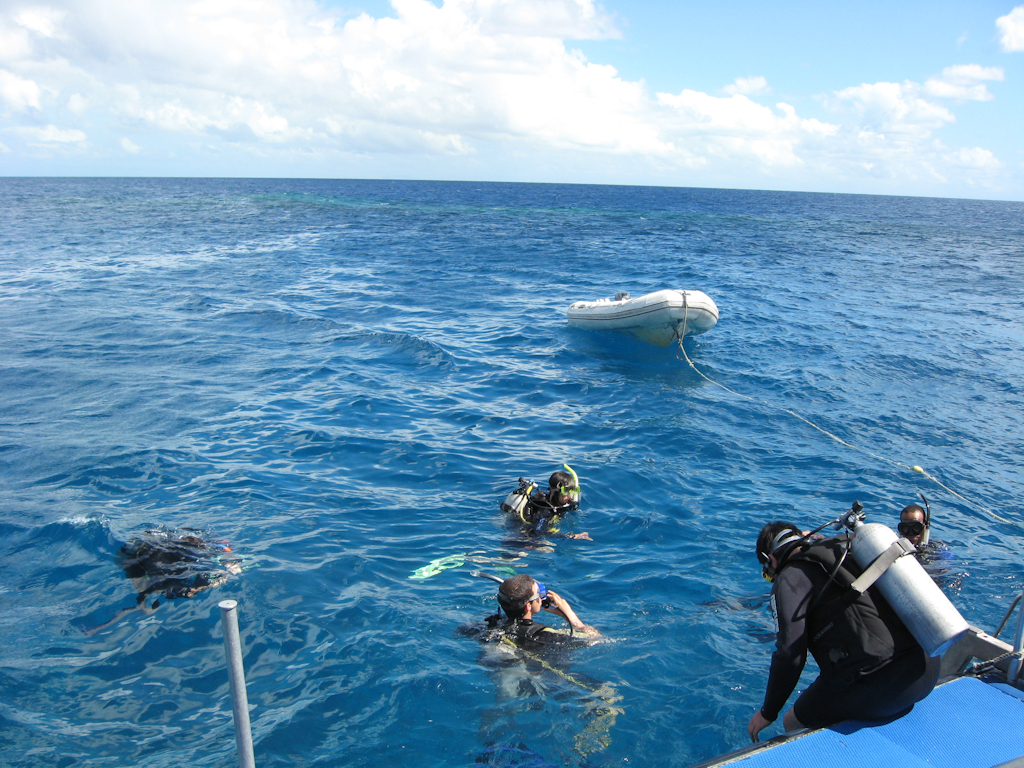 Day 4, Wednesday
Recovered and fresh I was eager to get under water again. Another guy had left the dive course and so it was just me and instructor Nobuko left. And I thought I booked the budget course.
As soon as the boat stopped at the reef we got in the water, descended to about 12m and went through some basic skills like taking off the mask or regulator. Just took a couple of minutes and after that the fun part could begin. This part of the reef has an amazing variety of fish. Nobuko knows a lot about them and gave me a solid introduction to marine life at the reef.
Way too soon my tank was close to 50 bar and we got back on the boat. The schedule was tight though and after 25 minutes we were in the ocean again and made our way to the bottom. After finishing more skills we went for another amazing underwater reef tour.
Onboard SeaQuest I got some lunch and rest to prepare for the third dive of the day. It was about an hour after the last dive and the boat had changed location by now. Nobuko went through some paperwork with me and handed me my certification. I'm a certified open water diver now, yayh!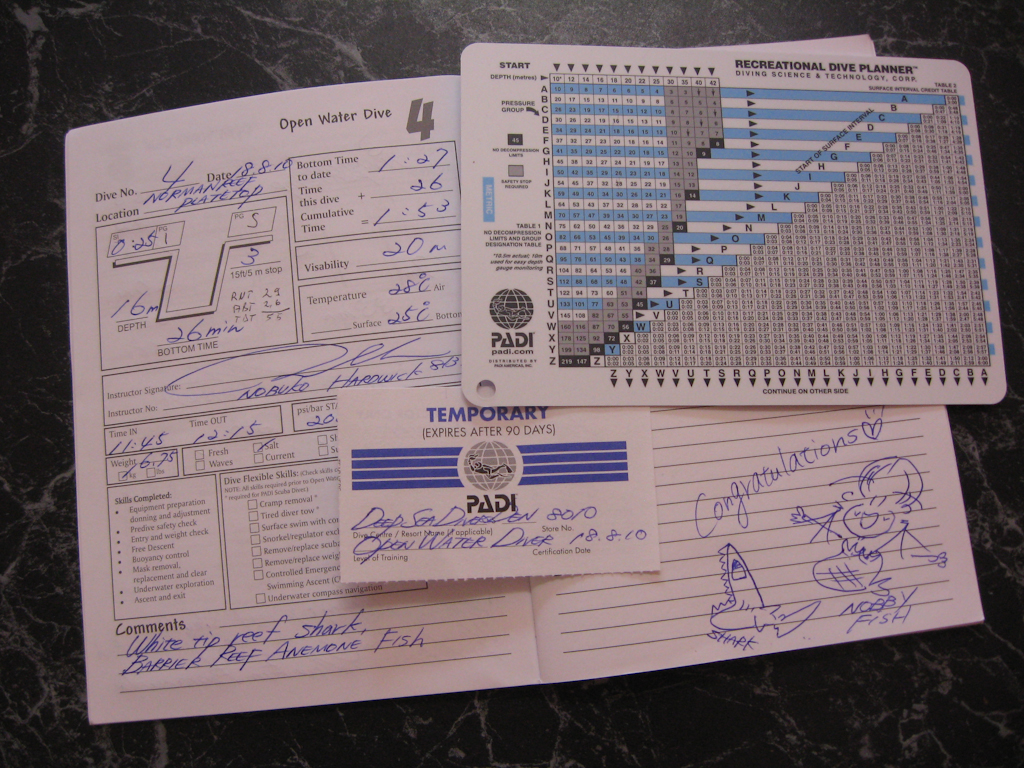 For the next dive I joined some people from the boat crew. The name of the diving site was "Shark Mountain". Quite promising! We saw a couple of white tip reef sharks, one of them about two meters long. It was sleeping on the bottom fortunately, had it been swiming around me it would've been pretty scary I imagine.
Back on the boat I got myself a comfy place and chilled for the rest of the trip. Four days of diving are somewhat exhausting after all. Next week it's back to work for me, hope I can make it out to the reef again soon!
I did the course with Deep Sea Divers Den and was completely happy with it. The staff was friendly and well organised and the gear in good shape. If you have unusual body proportions and don't fit in the standard wetsuits or want to have some better gear in general, check out slightly pricier Tusa.