On my last day in Kota Bharu I spent a lot of time at the local franchise of a big international fast food chain, trying to use their internet for my travel plans. It was horribly slow though and the location rather noise, resulting in me deciding to leave the next day and doing the preparations elsewhere.
In the afternoon Nik took me for a ride around town. We stopped at a Chinese temple that features one of the biggest Buddha statues I've seen so far. It had windows in the back, apparently you can walk around in there.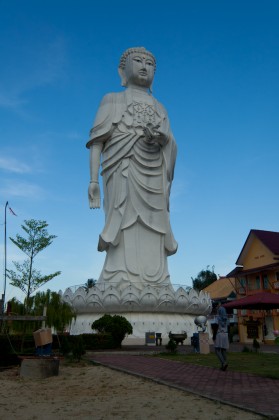 A nearby beach cafe was a good spot for a drink and the local variant of fish sticks with chilli sauce. We headed back into town to get some dinner but not without stopping at a mosque for a prayer first (only Nik, not me).
The next morning my bus was scheduled to leave at 9:30 but it didn't arrive till almost 1.5h later. The central bus station doesn't feature much in terms of a waiting hall, leaving me and a big group of locals flocked together in a small area behind the main building that provided a bit of shadow.
We pulled into the bus station at Butterworth some 6.5 hours later and I headed to the nearby ferry terminal to catch a boat over to Penang. RM 1.20 for a 15 minute ride, now that's a bargain.
The state's capital George Town is Malaysia's second UNESCO protected area. It doesn't look like it in the beginning, too many modern and high buildings in the skyline, but the small part of town that is actually under protection really is nice.