There is a Kebab joint in Berlin that is supposed to serve the best Kebabs in the city. People wait for an hour and more (sic!) to get their fix. When a friend told me she did that, I told her I'd never wait an hour for food.
Then came yesterday evening and dinner in Friedrichshain and we did exactly that: waited an hour for food. That wasn't voluntarily though, the kitchen just completely crumbled under their load. The Thai food was very good though. Once it arrived.
The area of Friedrichshain is amazing. The atmosphere is relaxed and people in the streets look casual. I was told that that's what Prenzlauer Berg was like before the apple drones hipsters moved in.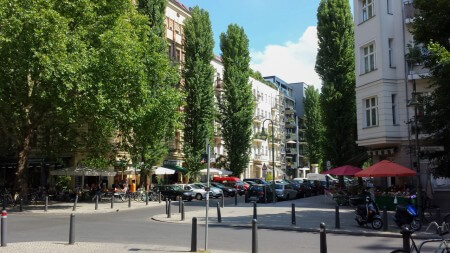 Friedrichshain is full of art and street music, both of good quality. The Pink Floyd cover a small band on a big bridge delivered would have been worth paying entry for. And that was on a Wednesday night at close to midnight. So far my favourite part of the city.
Later today I'll trade Berlin for Budapest and see what life's like in that part of the world.