Wednesday morning starts early for me. I don't want to take a gamble with the railway and decided to take a train that takes me a couple of hours early to Berlin. All connections are on time though and I arrive in Berlin around noon. The central station in Berlin is impressive, trains on two levels and heaps of shopping possibilities.
I spend some time with my cousin and his wife at their place and it's nice to see them again. Especially as they'll be a family of three any day now. At 3pm I'm on my way to the airport. The bus is totally overcrowded and had I taken off my backpack, I would have knocked a couple of people over. Standing for 20 minutes with two backpacks on my shoulders, what a fun.
Berlin's transportation remains dissapointing. Airport Tegel is tiny, cramped and definitely has to serve too many connections. After passing security I find myself in a tiny waiting room with seats for maybe half the people that fit in the A330. An hour before departure people are sitting on the floor or standing around. That's the capital's airport for you. If I was a proud German, I'd be embarrased.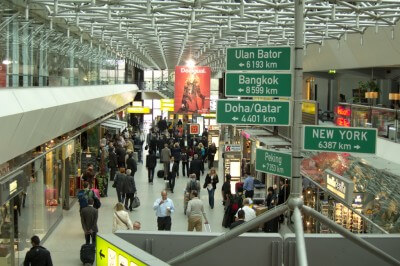 The flight itself was somewhat interesting this time. The guy in the seat next to me was good to chat to. From Sweden, married to a Thai and on a one-way ticket to Thailand. He says if he can deal with the rain season, he can stay in Thailand forever.
Takeoff was very bumpy – even for my taste – but the next hours were quiet. Somewhere over India we got into rough weather and everybody had to sit down and fasten seatbelts. Next thing I know, the captain tells the crew to secure themselves immediately. I haven't heard that before and didn't expect good things to come.
What followed was a minute of the worst turbulences I've ever experienced. Not just bumping and rumbling, the only thing keeping me in the seat was my belt. One second all blood is drained from my brain, the next second my stomach content urges upwards. If I had to endure something like that for several minutes, I'm sure I'd dispose of anything my stomach had in stock. Bloody hell, that was bad.
The remaining 2-3 hours of the flight were bumpy as well and when breakfast was served I wasn't exactly in the mood to eat. That changed when I had the food in front of me, though. The flight attendants did an impressive job with serving there. They skipped hot beverages, though.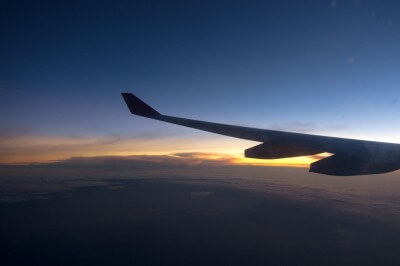 Back in Bangkok's Suvarnabuhmi airport I knew my way, cleared immigrations, got my luggage and headed for the airport link. Funny thing about immigration, there were some girls from Germany at the counter next to me, unaware of the fact that you do need some kind of visa to get into Thailand. Some people…
My guest house is near the train station this time. There is not much tourist activity in the area, which suits me fine. I already had my first noodle soup and the guy sitting next to me chatted me up without any intentions of selling something to me. Very nice. When I asked to take his picture, he insisted on doing his hair first. The whole 'restaurant' started laughing.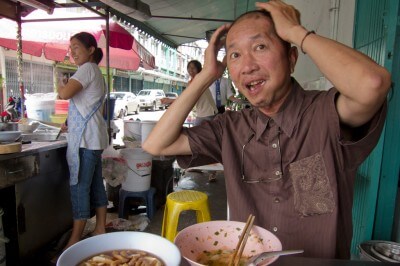 Now I'm in need for a shower (30° at ten in the morning) and a break, didn't get any sleep on the plane.