It's business as usual. Bangkok is smelly, smoggy, crowded, hot and humid. In the beginning I always wonder why I'm staying here again and again but the answer comes with the first stroll through the streets: It's interesting. Getting bored in Bangkok is almost impossible.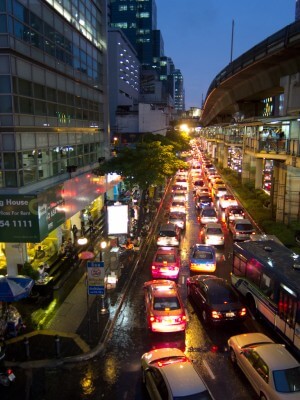 I started yesterday evening with a massage. There isn't any places around the guest house but the lady at the reception recommended to take the subway to Silom Road. Silom is a heavily touristed and suffers the same fate all touristy places in Thailand suffer. Thus before getting a massage I assured myself twice I'd be getting a Thai massage and not a 'special' massage.
This morning I went for a little discovery tour in the neighbourhood. I found the butcher.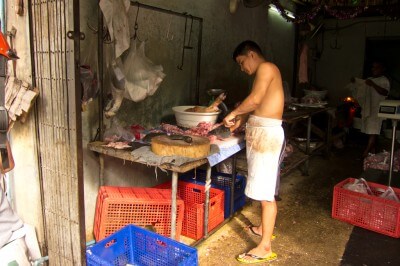 There is no way I'd buy meat there. But let's face it, the places I eat at need to get their meat somewhere.
Being up early in a Buddhist country one can see the monks doing their food collection round. They are in no means begging for it and the 'transaction' is straightforward. Think of it as a voluntary church tax.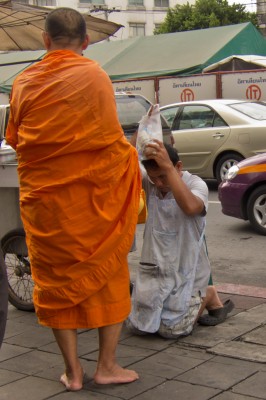 Back on Silom Road I came across a group of drivers who played what looked like a derivative of chess. The pieces were similar but they moved them differently.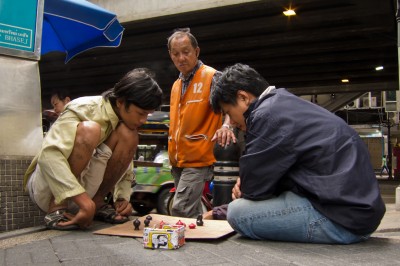 Walking down a road like Silom is like taking a stroll in a giant food court. There is vendors everywhere. This one was my choice for lunch.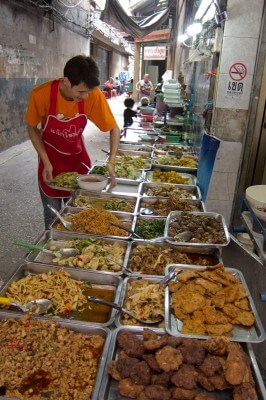 It wasn't the best Thai food ever but for THB 30 (€ 0.75) it was ok. The business is run by a family and work life seems to start early for Thais.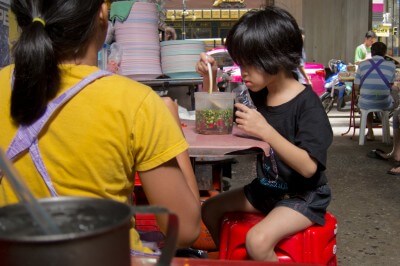 She is filling soy sauce with chillies into small plastic bags for take-away.
After eating I sat down nearby to watch the daily life. A tuk-tuk driver came by and offered to take me for a tour. Only THB 20 for one hour. That's a common scam in Bangkok, they don't take you sightseeing, they take you from one shop to the next and get commission from the owners.
Thus I asked him: '20 Baht? And to how many shops will you take me?. He laughed and said: 'Oh you know the trick? Here look, I get one litre of gas if I take you to this tailor.'. Sorry mate, not going to happen.