My journey to Asia started somewhat rough. The airport bus that was supposed to pick me up at eleven ran late and didn't arrive before 11:20. The driver did his best to get us to the airport in time and an hour before check-in closure I was at the terminal.
The domestic terminal, cause that's what it said on my ticket. Turned out to be a printing error and my flight was leaving from the international terminal as one would expect. They're not far from each other fortunately. At the check-in counter I was asked about my onward flight from Thailand. Told them I didn't have one cause I don't know how long I'll stay.
Too bad they said, can't let you check in without a booking for a flight out of Thailand. I was starting to get slightly annoyed by then and pointed out the visa in my passport. 'Oh, you have a visa, well then you can check in.'. Almost surprisingly I came through security and customs without any problems.
On board my neighbour turned out to be a moronic ex-Yugoslavian-now-Aussie who told me Hitler should have killed more people so there'd be less idiots in the world today. Good thing I had a hangover anyway and just wanted to sleep so I could avoid further discussions about that matter.
Nine hours later, after a calm flight, we touched down in Bangkok. I filled out my paperwork and headed to the immigrations checkpoint. I didn't understand a word of what that guy said to me. He checked my passport and paperwork for a minute or two and then gestured me to go ahead. Boy was I happy that went well.
From the airport to the city I took the train and half an hour later I was in the middle of Bangkok. It's hard to describe but it sure looks different to anything I've seen before. Only seen something like this in the movies.
It was still another 5-6km from the station to the hostel so I wanted to take a taxi. I knew that ride should cost about 80 Baht so I couldn't help laughing when the first cabbie suggested 500. They always suggest a price cause even though they are called 'meter taxis' they don't use the meter.
After another two or three attempts I found a driver who was willing to take me to the hostel for 100 Baht. Still too expensive but with an exchange rate of 1 AUD = 31 THB nothing to get upset about.
The hostel is quite nice and has air-conned rooms which are very helpful, it's midnight now and it's still 30° outside. I went on the street to get a little dinner and tomorrow I'll have a look at Bangkok in daylight.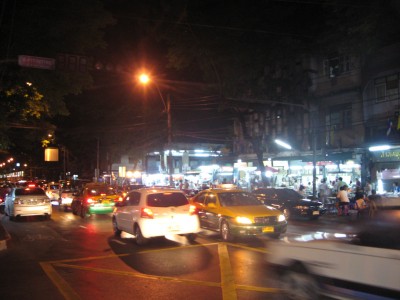 Niras Bankoc Cultural Hostel, far away from Khaosan Rd but close to the Grand Palace, the Golden Mountain and other sights. Situated in an old building it's a stylish and comfortable place although not the cheapest.