The meal was good and the rain had stopped, so everybody was ready to tackle the second half of the day. Back into the jungle.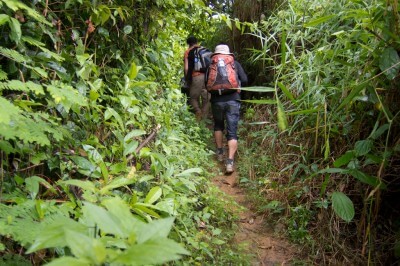 Walking got considerably harder. The path was still muddy and now constantly lead up and down, sometimes just inches from a slope down to the river. The guides were doing fine, one of them even in flip-flops, but the American couple was on hands and feet more than once. Hiro and I had heavier shoes with deeper profile and were somewhere in between.
At some point we reached a first village and had a small break. Two years ago that village was quite big but then most people moved closer to the road to have easier access to – well everything. Doing a couple hours of jungle trekking when you want to buy supplies or need to see a doctor is just not the bee's knees. Nowadays only the farmers currently working on the fields stay at that place. The kids not old enough for school join them and they looked way poorer than any kid I've seen in the city.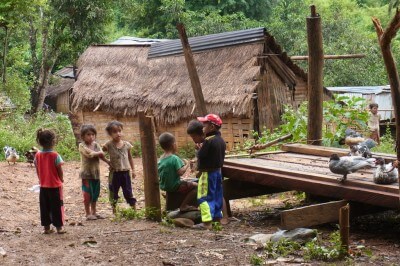 Back on the trek we had to cross the stream countless times. We had been told to bring flip-flops for the crossings but we hadn't been told that we'd wear them between the crossings in the jungle, or while walking up the river bed for ages. Mine broke somewhere along the way and after walking mostly barefoot for an hour my mood was low to say the least.
Our Californian company wasn't too happy either. Not only because of the strenuous walk but also because of concerns about safety. It would be too easy to sprain an ankle or break something on the slippery path and in the river beds.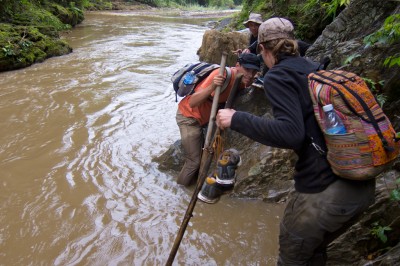 We were way past the point of no return though and could only continue towards the village were we would overnight. Several hours later we finally reached the 'road' leading there. About an hour before sunset we had arrived at our final destination for the day: Ban Yha Nang.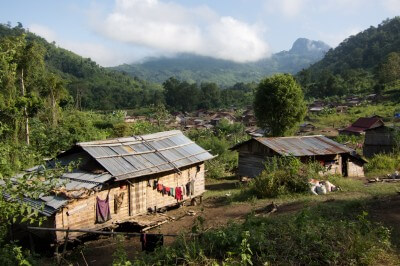 Because it is so difficult to reach, not many tourists come here. Getting there by car is impossible and even on a small motorcycle it takes two hours to reach the town. That's only possible in the dry season though, if it's wet, people still have to walk. Thus the village was a refreshing change to the touristy one we had seen the other day. No souvenir shops here.
Our guides started to prepare dinner and we went to take a shower. Well not exactly a shower, they don't even have toilets here. They do have a tap with spring water though. As the 'bathroom' is in the open, men have to keep their underwear on and women have to wear a sarong. Another new experience.
We were soon the centre of attention for a whole group of kids and Phil and Christy introduced them to some children songs. They returned the favour by presenting some songs they learned at school.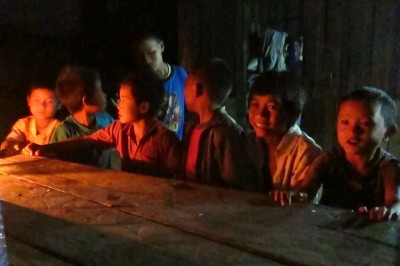 After dinner we spend some more time with the kids and other locals but soon everybody was ready for bed. Our host was a former village chief so his house was one of the better ones with concrete floor and solid wooden walls. They had prepared mats and mosquito nets for us in one corner. Very basic but after that day I probably could have gotten to sleep on the bare concrete floor.