In Thailand the usual treks to hill tribe villages go along a well beaten path. The country sees a massive amount of visitors and the locals have adjusted to that. Far fewer people visit Laos and even fewer take it on them to walk for hours through the jungle to reach a remote village. We were among these few.
Our group was completed by Phil and Christy from California and our two Lao guides. I can't exactly remember their names, sounded a bit like Lah and Meh. Equipped with our backpacks and three litres of water each, we headed out of town in the usual 'two-benches-in-the-back-of-a-truck' transport.
Half an hour into the drive it started to rain. Not something you want to see when you're about to go on a jungle trek. It was still pouring down when we were dropped of at the starting point for our trek. We took shelter for a while and as soon as the rain got a bit lighter, our guides decided to get going. We started by crossing a little river.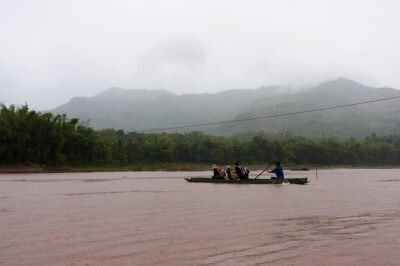 On the other side we headed straight into the jungle, following a path the villagers use for their travels. As it had been raining for a while, the path was muddy and slippery. Walking there required undivided attention. After half an hour we reached a stream that we had to cross on foot.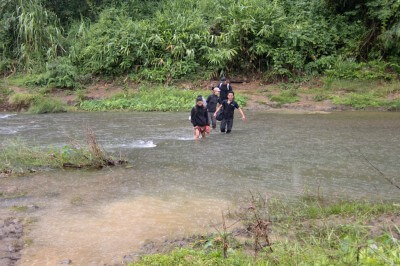 The track leads along the stream and crosses it several times. So did we. The rain still hadn't stopped and our guides decided to take a break at a little hut. Everybody was pretty much soaked and it was getting cold. In the hut two villagers were already taking shelter and had even set up a fire.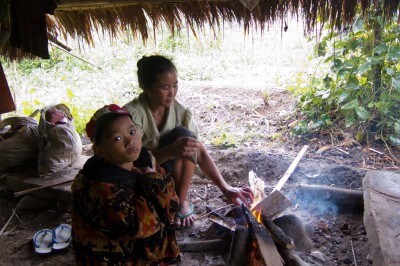 We tried to get dry as much as possible – which wasn't much. Our guide told us that if the rain continued for another hour, the track would be impassable due to high water in the streams we'd have to cross. The weather cleared up after half an hour and the rain became a light drizzle.
Back in our wet jackets and shoes we shouldered our packs and went on. Walking was still strenuous and everybody except the guides was sliding around on the muddy paths. Walking through the wet vegetation wasn't the biggest pleasure either.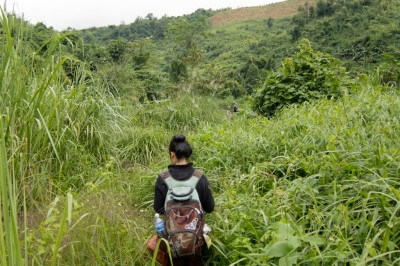 Around noon we reached a clearing near the stream and stopped for lunch. Our guides had brought the food along and set up the table on a couple of leaves. No plates and cutlery here so everybody wash their hands please.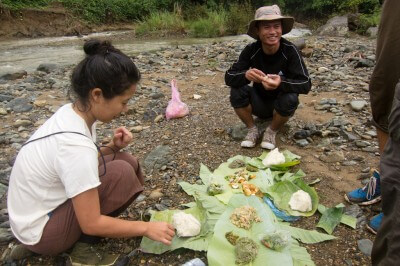 To be continued.