Most tourists come to Islay either by car or with their bicycles which is not the worst idea as public transportation is rather scarce. I don't have either and using a bicycle on a windy island for hours wouldn't be to my taste anyway.
For Sunday I planned a visit to the Bowmore distillery which is about 11 miles from Port Charlotte where I'm staying.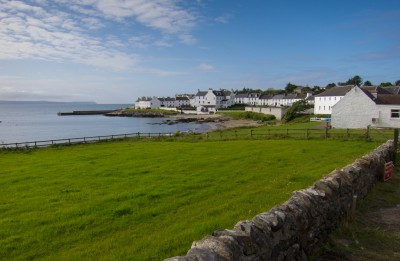 As I had to learn, there is no bus services on Sunday. That left me with Islay's second public transportation: hitch-hiking. It was recommended to me by the hostel owners so I didn't really have concerns about safety. Islay is probably the place with the lowest crime rate in the UK anyway.
The islanders were extremely helpful and I didn't have much trouble getting to Bridgend. There I saw a sign saying 'Bowmore 3' and decided to walk the 3km. Wondering after a while why the way looked so long, I realized that I'm in the UK and it's 3 miles and not 3km. Still managed to arrive at the distillery five minutes before the start of the tour.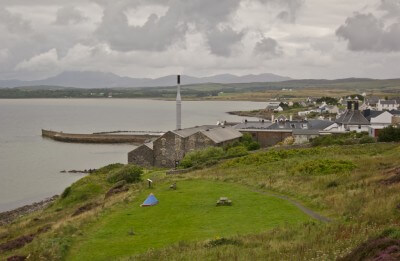 The tour was very informative and I finally learned how barley is turned into that delicious whisky. The islay whiskys get their smoky flavour from the drying of the barley which is done over a peat fire. Once a 'by-product' it is now a trademark. The tour finished – of course – with a tasting.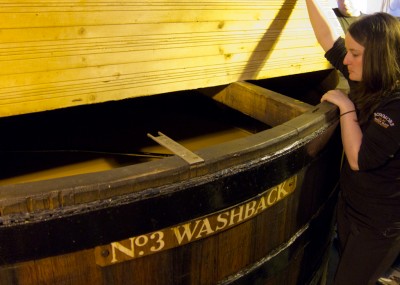 Some friendly islanders got me back to Port Charlotte and after dinner I had a look at the night life. One of the pubs offered traditional live music. It was a bit too traditional for my taste and I went next door. The atmosphere there was more to my taste and a couple of locals invited me and some other travellers to a game of pool.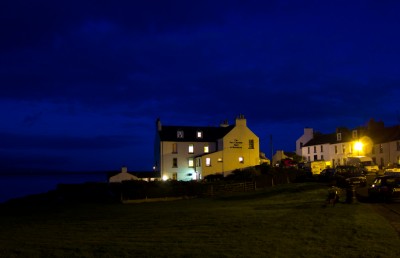 On Monday bus service resumed and I said goodbye to hitch-hiking. Today's destination was the Laphroaig distillery in the south-east of the island and with the thin bus schedule it took me long enough to get there. A 2.5h stop-over in Bowmore was good for a walk along the beach and lunch from the super market. Ever tried pasties?
The tour at Laphroaig was a little more relaxed and included a tasting of raw smoked barley and 'wash', the beer-like base for whisky. Both interesting but nothing for a daily base.
Tomorrow I'll leave Islay and head to Oban on the west coast.