Yawn, for the past five days I've been tired, low-on-energy and cranky. The routine of the 0-4 watch goes completely against my normal rhythm. Most of my preferred sleeping time (23:00 to 7:00) I spend awake now. Getting more than six hours sleep in one go is virtually impossible.
The first meal after waking up is lunch and as amazing as the chefs are, if I get pork chops for breakfast, I have to force them down. It seems rather unfortunate that a third of the people won't get a proper night's sleep for ten days straight, while others are perfectly fine. Draw of the lot decides about the quality of the trip – kind of uncool when you shell out 1.5 grand…
It's the halfway-point of this trip and so far I'm not sold. Feeling fucked all the time is part of the equation but also the activities on board haven't convinced me so far. It's fun to climb into the rig but it doesn't blow me away. It's interesting to pilot the ship but it doesn't get me hooked.
It still is a unique experience – feeling how the waves and the wind move the ship, people walking around like drunks on their quest for a handhold. It's an experience that for the sake of passenger comfort can hardly be had on modern commercial passenger vessels any more.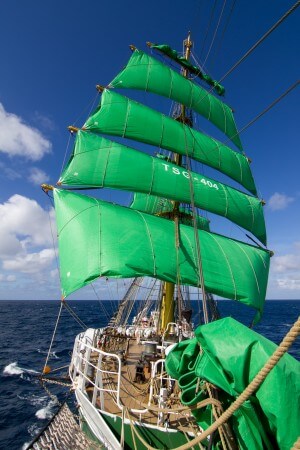 Also interesting to see is my brother in his favourite habitat. He spends most of his vacation time aboard this ship and as watch lead has to make sure that his ten head strong team sails the ship and learns something in the process. So far he's doing a good job. It's a bit of a pity though that there isn't much time to chat. During watch it's always the group around and off watch hours either one of us is usually sleeping.