Having a 14:00 flight tomorrow, I didn't wanted to take any risks with a same-day bus connection and instead went for the safer option with one night in Tangier. I wasn't overly keen to come back, as the laid-back Chefchaouen was much more my cup of tea.
The first half of the day went by quickly with some work, lazily dozing on the rooftop terasse and nice conversation over a prolonged lunch. The 15:15 bus didn't quite make its schedule and it was about 19:00 when I arrived in Tangier.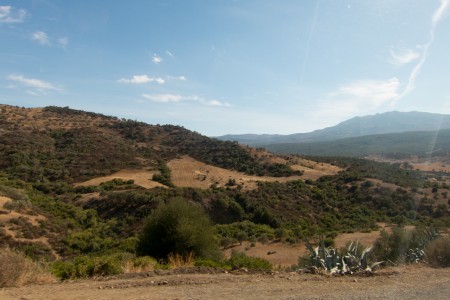 The bus didn't make it all the way to the general bus station but instead stopped at the bus company's headquarters. Not unusual, but it meant far fewer taxis available. Stepping out of the building I'm offered a ride to my accommodation. Asking for the price I'm quoted 100 Dirham. I laugh in the guy's face and walk off to the main street. "60!", he shouts. Five minutes later I sit in a regular taxi and pay 15.
Back in the Medina I get some hellos and friendly waves from the old potheads at the cafe. A boy in the streets looks at me, stops and says "You left! You are back!". I have no idea whether he actually remembered me or simply does that to everybody. But I have a feeling it's the prior. Strange place, this Medina.