My current home is a very maritime place and as it happens with such, there is ships coming around quite often. Last weekend the sailing ship 'Alexander von Humboldt II' (the first is still afloat as well) was one of them. It was built less than a year ago in nearby Bremen as a training vessel for traditional seamanship.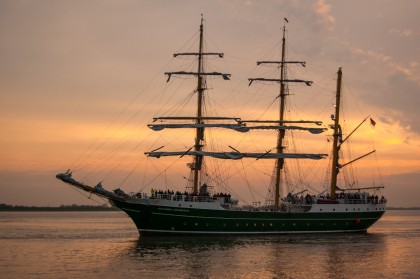 My brother has spent weeks on the ships' predecessor and eventually became a regular in the crew. That doesn't mean he's got full-time employment on the ship though, it means he as a solid idea of the ship duties and can come on trips for a small fee. With that kind of connection it was almost mandatory to board the new ship with the whole family for a short trip.
We went for the evening option and it was around 9pm when we departed. The sun had set by that time and the remaining light painted a romantic sky.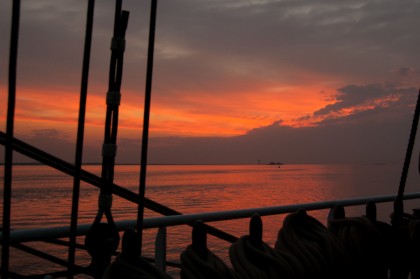 The ship headed upriver for a short while and then turned around to lead a procession of colourfully lit boats downstream.
Basically the whole ship was open to the visitors, only for manoeuvres parts of the deck had to be cleared. I had gotten a tour of the under-deck area earlier and thus enjoyed the view from the deck rather than going for a lengthy exploration.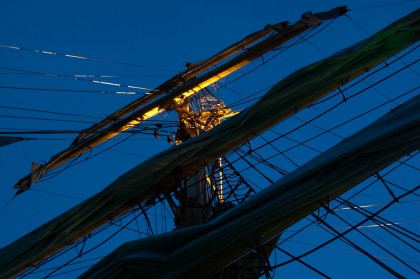 The ship spent about an hour on the river before heading to a lock that would get us into the harbour. It took a long time to get through but finally we emerged on the other side and got a little harbour cruise at the end of our trip. Definitely an interesting experience to be on a sailing ship.