Decades ago Pai would have been a very dangerous place for tourists. Back then it was a hub for drug trading in the golden triangle. That changed in the 1980s and the area became an option for tourists. From what I've heard these people still had an interest in cheap opium and cannabis.
From that something of a hippy culture developed in Pai and until the early 21st century it probably was a very relaxed place. In 2003 Thailand launched its war on drugs which cost more than 2000 Thai their lives and sobered up the streets of Pai.
Nowadays Pai is still a place for people who like an 'alternative' lifestyle. The town is flocked with pierced, tattooed and dreadlock-wearing westerners. The look might be alternative in most places, here it's standard.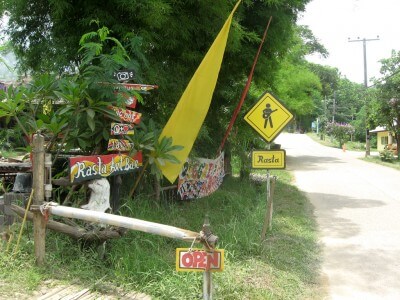 For me it's a little too much. During my travel I met a lot of people that could be called hippy or alternative and meeting them changed my perception of them as a lot of them seem to live in a world parallel to the existing one. Or at least wishing to live in a different world but in fact just ignoring the facts of the world around them.
Here in Pai most bars play reggae music all the time (I like Bob Marley but not all day long) and shops sell shirts showing John and Yoko saying 'We love Pai'. Whether that's blasphemy or funny I don't know.
Well so much for the town of Pai. Outside the town it's different, it's rural Thailand.