All good things are coming to an end and that includes this trek. Having done more walking than anticipated in the previous days, the 10-day trek had turned into a 9-day one. No biggie though, I was starting to get a bit exhausted.
The day started with a short walk to the old Ghandruk village, which looks like taken straight from a postcard.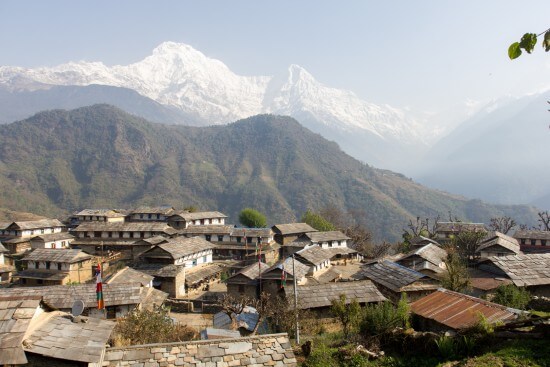 Upon check-out, I discovered that the guest house owner tried to charge me twice the advertised price for the room. I didn't have the best of impressions of her already, after an incident the previous day saw a Korean couple leave the guest house rather unhappily in the middle of the night.
Bargaining her down to the regular price didn't take too much effort but still left a very sour after-taste. Few things ignite me as quickly as the greed that inevitably seems to come with tourist money.
As per usual – we were completely spoiled by the weather by now – we set out in bright sunshine and Kamala even started complaining about the heat. It wasn't that hot though and as I had done most of my hiking in tropical or desert countries, I didn't really mind.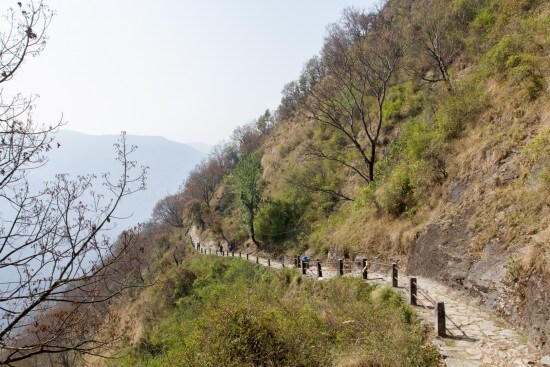 Countless stone steps took us down to the small village of Kimche, which is the first point where one can get transport. It was just past 10:00 though and way too early to catch a bus home. Thus I decided to walk the roughly 4h to Naya Pol.
The valley we now descended into was lined by terrace fields that had an undeniable similarity to the rice terraces of Bali.
We had bumped into a porter friend of my guide and the two were lagging behind a fair bit, chatting away. I had to remind Kamala that she was my guide and to keep pace, which she then did.
Down in the valley we now followed the dirt road that connects Naya Pol with Kimche. Traffic was very mild, so walking on the road wasn't a bad thing. Around noon the sun had taken it's toll and I was ready for a rest and a bite to eat.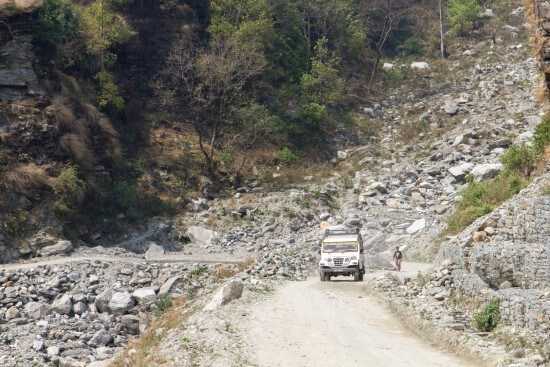 Kamala wanted to take a cold shower after lunch (weird but ok) and kept looking for a place that could offer that. There wasn't any and after another hour and a half I was really grumpy and told her that I needed a rest and didn't care much where and how.
Not five minutes later she had found a place but the mood was spoilt. We continued on to the bus stop and reached it at 15:00, with a bus pulling in almost immediately. On the bus I apologised to Kamala for getting grumpy but didn't get much of a reply. With her being my guide and having to look after my needs first, an apology on her side would probably have been in order.
The rolling death trap they call bus got us into Phokara well and safe and we took a taxi for the last ten minutes to the guest house. When we arrived, I got out of the taxi, paid the cabbie and expected Kamala to come along to get her payment. Instead she remained in the car and I asked her when she wanted to get her money. She remained silent and after a moment I told her to let me know where and when. Still no answer and she had the cabbie take off.
I couldn't make any of that, the money I still owed her was not a small amount. Was I at the receiving end of some very elaborate scam? But no matter what I considered, her not taking the money didn't make any sense at all.
In situations like this I call a friend of mine, whose extensive travel experience makes me look like an all-inclusive tourist. She is the most bad-ass person I know but even she couldn't make any of it either. Still she urged me to err on the side of caution.
A couchsurfer I met in Kathmandu and also the owner of my guest house didn't understand Kamala's behaviour either, but suggested to just wait and see.
All that left me very uncomfortable and put a sad end to an otherwise absolutely amazing trek.
This morning I gave Kamala a call to ask when she would pick up her money. She sounded cheerful as usual and said she'd come over in the early evening, which she did. We met in the hotel's breakfast room and I enquired about what happened. Her answer was a short "nothing" and when I told her how uncomfortable she made me feel, she replied with a "sorry".
With the conversation not going anywhere, I thanked her for the amazing trek and said goodbye. I sat down in the lobby for a moment and when she went past, she invited me over to her place for home-cooked Dal Bhat. I declined, mentioning again how uncomfortable she had made me feel the previous day.
During the talk, she herself seemed uncomfortable and hesitant to express herself. It made me sad to see her like that, especially as we got along so well during the trek. What all the fuss was about, I still don't know. I hope in the long run it will not overshadow the absolutely amazing first 8.5 days of the trek.