10 hours of sleep, so good! I wake up to a view of Dhaulagiri's snow covered top.
We have a relaxed 9:00 departure and just as the day before, we walk along a narrow path through the forest. Every now and then the trees open up and give way for a view into the valley.
Dhaulagiri and Annapurna are now hiding behind the ridges that line the valley we are walking up in. We expect to see them again tomorrow.
Lunch stop is at a small hut in the middle of nowhere. There are no villages at this altitude any more and this is the only infrastructure available.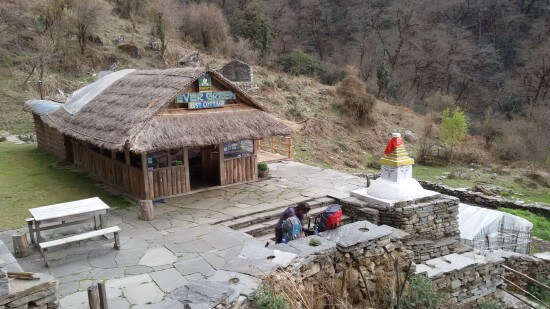 Another trekker and his guide arrive at the same time as we do, although they are coming from where we are heading.
We've made good time so far and the sky doesn't look like rain. Hence we can sit in the sun a bit longer and an hour has gone when we continue.
The higher we get, the less dense the trees grow. Much to my surprise, there is a lot of Rhododendron trees in full bloom up here. Beautiful sight!
I'm really happy with my guide. She is cheerful and usually humming or laughing. She's always up for a chat but doesn't talk too much. Good balance, very important considering the amount of time we are spending together each day.
Our home for the night is in Danda Kharka at 3000m. Fortunately no altitude related issues so far.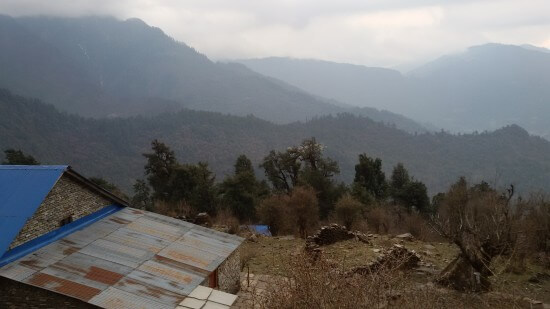 About a dozen more people are staying at the lodge, half of them guides. Kamala isn't too keen on hanging out with the male guides. From what I've gathered, they aren't always the kindest towards her.
She usually hangs out in the kitchen, which gives me the perfect excuse to spend my time there as well. Watch the host cook up the food, get a bite here and then.