Phnom Penh is an interesting city but not really to my taste. It is much dirtier than Bangkok and at the moment parts of the city are under water. That makes strolling around a bit disgusting at times. Watching Phnom Penh makes it obvious that Cambodia is way less developed than Thailand.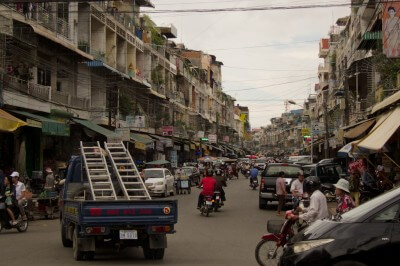 The guy who hosted me has a really large place (seven bedrooms) and there was always a couple of couchsurfers at his place. It was a nice opportunity to meet people but less personal than previous couchsurfing experiences.
I left Phnom Penh in the morning and took a bus to Kampot, five hours south of the capital, near the ocean. It's quite a sleepy town and a refreshing breeze is going through the streets.
My plans for Vietnam are in the making right now. I'm considering to go along the coast, cross the border near Ha Tien and spend a couple of nights on the island of Phu Quoc. After that visit the Mekong delta and go into Ho Chi Minh City (Saigon).
Jetstar rescheduled my flight to Auckland by one day and in return gave me a voucher for SGD 100. That made me consider skipping the centre of Vietnam and instead spending the voucher on a flight from Saigon to Hanoi. Could make things a little more relaxed.
I'd post some more pictures but internet in Cambodia has been painfully slow. And I really mean painfully slow, I can watch the google page loading image by image.