To whatever place I carried my backpack so far, I always wrote about the local food. My home country shall be no exception to that.
One of the most unsual (visually) dishes prepared in northern German kitchens is Labskaus. Basically unknown to the south of Germany, this traditional seaman's dish always creates a raised eyebrow when served to somebody who hasn't savoured it before. "I haven't eaten it before but it sure looks like I did" is a common remark.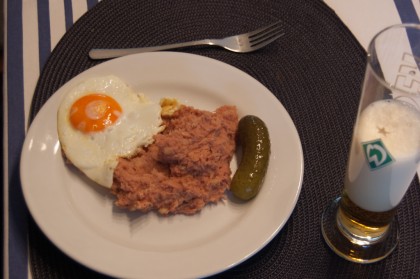 The mash of beef and potatoes is usually served with egg, gherkins, sometimes Rollmops and of course beer. Tastes much better than it looks.
In Germany the main meal is traditionally consumed for lunch, but it is becoming more and more common to have the warm meal in the evening. Where this trend hasn't changed the customs, dinner is still a cold meal with bread, cheese and meat.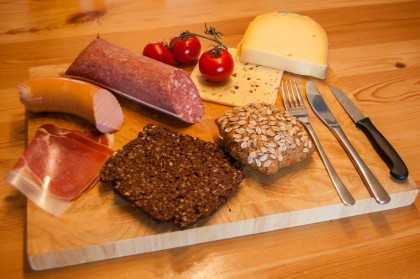 The bread is usually prepared with butter or a similar spread but I forgot to put that into the picture. Some of the most common variations for the meat are Mettwurst (very similar to Salami) and ham, both often smoked. The cheese selection is international, besides local products both Dutch Gouda and French Brie are popular.
Another speciality from northern Germany is 'Krabbenbrot', bread with shrimp. It's usually some form of dark bread covered with brown shrimp. These shrimp are smaller and softer than prawns and have a more intense flavour. The dish is available at local restaurants as well, usually all day long and not only for dinner.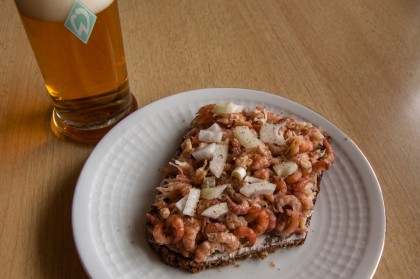 Not all German food is savoury though. "Kaffee und Kuchen", lit. coffee and cake is the name of a meal in-between, consumed in the afternoon. Especially in northern Germany the coffee is often substituted with tea. The cake comes in countless variations – during summer and autumn often with seasonal fruit like strawberries, apples or plums.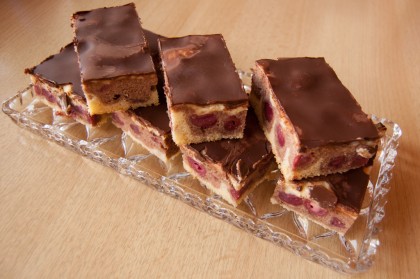 I feel hungry now.