The big and anonymous city hostel in Girona was a contrast to all the small, family run places I had stayed at on the Balkans. There I was welcomed, showed to my room and later on greeted by name. In Girona I was handed some bedsheets and given directions on where to find my bunk. Wasn't too hard to leave this morning.
From Girona to Barcelona there is an hourly train connection. And as I had left the Balkans behind, I had no hesitations about using it. The modern high speed train rushed into the capital in less than 40 minutes and at Barcelona-Sants I changed to a local train for the airport.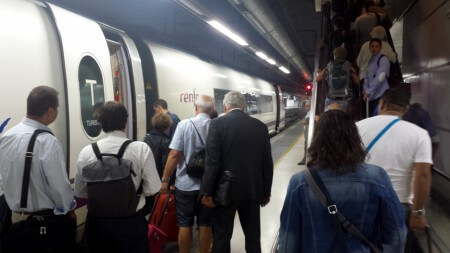 The Vueling flight to Tangier left with only a minor delay and in the early afternoon I stepped out of the airport building into the mild Moroccan weather. Ok, the temperatures were in the high twenties, but after four weeks of 35+ °C, that felt really mild.
The taxi that brought me into town was an old Mercedes with half a million kilometres on the clock. The driver spoke about as much English as I speak French and thus it was a rather quiet ride. He pointed out the cricket club, the golf course and the horse track along the way.
My accommodation is a hostel in the old part of town and I had to walk the last couple of metres as the streets were way too narrow for a car. It is quite a maze and when I came back from my usual shopping tour (water and local SIM card) I needed a few minutes to find the right corners.