Todays Cooktown has a population of about 2000 and looks back on a short but rough history. In 1770 Captain Cook landed here to repair his ship which was leaking like a sieve after the ride through the Great Barrier Reef. For the next 100 years the place remained quiet until the discovery of gold in the Palmer river raised the necessity for a port.
That was the birth of Cooktown. Only years later it had a population of 4000 but quickly lost citizens when no more gold was found in the area. Fires and cyclones treated the city badly and the population dwindled. It became important once more during WWII when it was a base for the battles against the Japanese. Today it is a nice and quiet place away from the common tourist areas.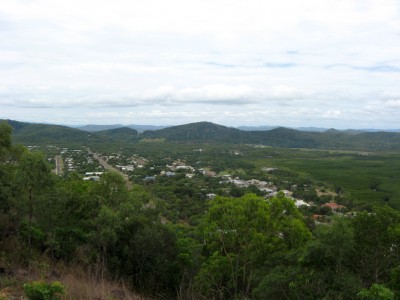 We went to explore the city by foot and for the first time in more than four months I wore closed shoes. Death adders are an argument that convinces even me. Unlike most snakes in Queensland this one doesn't take flight when it hears footsteps but rather sits and waits for its pray. Fortunately it isn't among the most poisonous snakes and after a bite there's enough time to get antivenom. Still didn't wanted to take any risks there.
Our walk started in the botanical gardens (they are the biggest I've seen so far in Australia). Through dense bushes we walked to a quiet place called Cherry Tree Bay. No cherry trees there, though. From the bay we walked up to Grassy Hill and the light house. The spot offers an amazing view over the town and the Cape York Peninsula.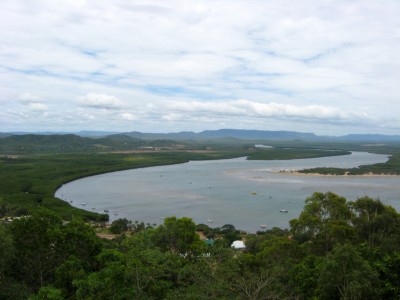 Back at our camp it was time for dinner. We had a rather disappointing experience with the gas BBQ the night before as it didn't even produce enough heat to boil water. This time we went with an open fire instead, very outdoorsy!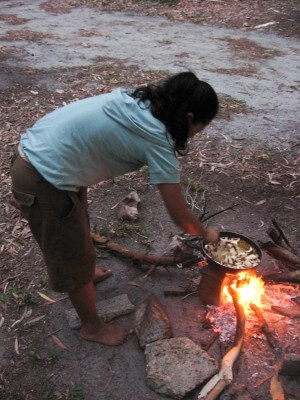 That's Tom Yum in the pan, btw.