Bhaktapur has a Jatra and it has a chariot. Both are huge. But Bhaktapur is not the only city in the valley that sports these kind of things. I had heard marvellous stories about the Bunga Dyah Jatra in Lalitput, supposedly featuring a 20 metres high chariot. I couldn't believe that and put it off as a conversion error, surely they meant 20 feet, right? Boy was I wrong. But all in due time.
Lalitpur local Bibhu had extended an invitation for me to come around for the festival, as well as have a look at her part of the woods. Thus on Tuesday morning I made my way to the Baisepati community just south of Lalitpur central. The family lives in a gated community, I don't think I've been to one before.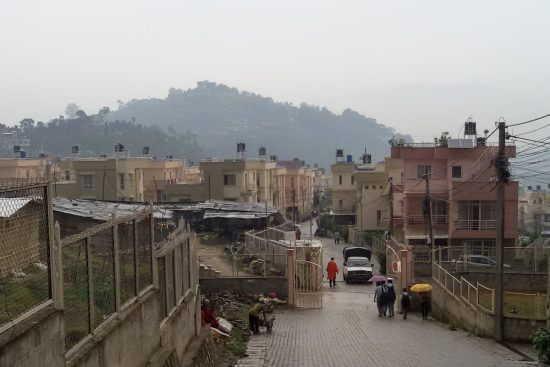 Bibhu's mum put a small feast on the table for lunch and we happily indulged, while outside the rain put an afternoon hike as well as the chariot procession in the evening in question.
Fortunately the downpour stopped not much later and we had enough time for a walk in the vicinity. It looked really nice and apparently is a good location for day hikes. The villages along the way, like so many, had suffered badly during the earthquake.
It was around 16:30 when we returned, and pretty much straight away jumped into the car with the family to drive down to the city centre, where the festival was about to start.
While the Jatra in Bhaktapuar celebrates the new year, the purpose of the one in Lalitpur is to bring the rain. Considering that another strong shower came down in the early evening, I'd say it's a full success already!
The main chariot was being prepared for the move when we walked by. Yes, it's huge!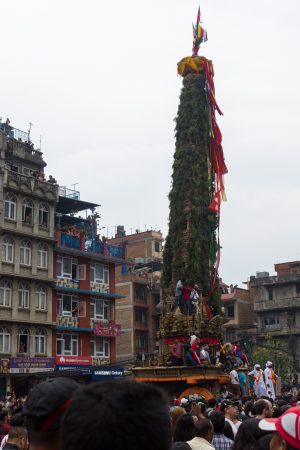 Before the colossus can be put into motion, another smaller chariot needs to meet it first. From what I've been told, the larger chariot houses the son and the smaller one the father. If anyone wonders how they deal with all the low hanging, street-crossing wires: Think wirecutter.
We saw the small chariot pass and it would be another half an hour at least until it would return with the large on in tow. Enough time to visit the Lalitpur Kumari, the living goddess. It is said to be great fortune for a family if their daughter is selected to be the next Kumari. However I wonder if sitting around all day, being worshipped, is the best childhood a little girl can have.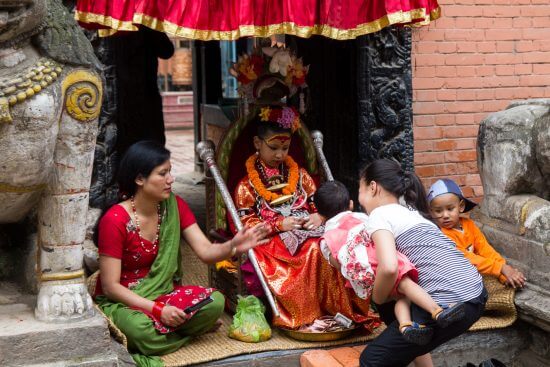 For the main event, i.e. the pulling of the big one, Bibhu organised access to a roof-top. Top-notch location to see the impressive procession down below. And be at eye-level with the top of the chariot!