My home in Melaka was the Backpacker's Freak Hostel. No idea how it got that name, nothing freaky about it really. The staff are extremely friendly and helpful and went out of their way to make my stay a nice one.
Being somewhat on a tight budget at the time of my stay, I went for a bed in their only dorm, a 4-share. The room is one of the few (maybe the only?) rooms with air-con and faces the street. That can be a problem for those sensitive to noise but didn't bother me.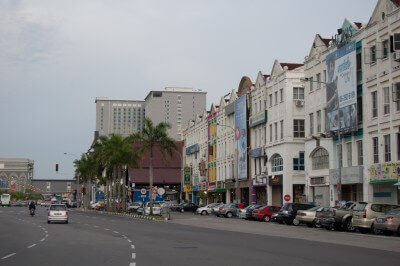 The location on Jalan Merdeka is slightly of the main tourist drag in Chinatown but it's just a short walk to get there.
The restaurants around the hostel are local and offer some decent budget eating. Turning left after stepping outside the hostel is a noodle soup shop that serves a Tom Yum style fish soup for RM 4.50. Turning left again at that corner it's a short walk to a place that has a big 'Asam Pedas' sign outside and serves exactly that for RM 6.50.
Turning right out of the hostel and right again at the next corner there is a shop that sells some nice noodle soup/rice porridge for RM 5.
Walking along the main road one reaches the shopping malls Mahkota Parade and Dataran Pahlawan that stock everything you'd expect from a mall, including SIM cards for RM 8.50 at the 'Digi' shop.
Just next to the hostel is a 7/11, ready to serve those with a craving for snacks.
Hostel reviews on tripadvisor.