After three times in Bangkok all my visits have been quite unique. This time it was mostly the life after sunset that made the streets very interesting. The wild mix of families with kids, hookers, touts, pimps, merchants, food stalls, moto drivers and Muslim tourists with women dressed up like tents. Here's a video of the small lane where my guest house was.
I spent my last day walking around, sitting down every now and then and just watching the show. It was a very sober show by the way. Due to the elections all alcohol sale be it in restaurants or shops was forbidden. For the whole weekend there was no legal way to buy alcohol in Thailand.
On Monday morning everything went smooth with getting to the airport and checking in. I had a lot of time till boarding and found myself a place to have a little nap. Boarding was a little delayed but I think we left BKK pretty much on time.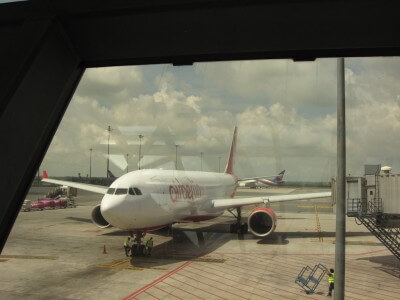 The flight was uneventful and I was surprised by the quality of the service and food by airberlin. Did not expect that from an airline that cost half as much as the nearest competitor. The plane wasn't booked out and I got lucky enough to get moved to a front row seat with considerably more leg space.
As boring as the eleven hour flight was, after the long trips I did in Thailand it didn't really bother me anymore. We reached DUS at 6 pm. Clearing immigrations was a matter of seconds (really nice for a change) and I went to get my luggage. There were the participants of the Miss Netherlands competition as well and people were busy taking their pictures. What a load of crap.
As I didn't have any European money with me (only AUD, KH, TH and US) I headed for the only exchange booth on the whole airport. They had rates that were such a rip-off that even a Thai tuk-tuk driver would have grown pale with jealousy. So off to the ATM and get some cash with the Aussie credit card.
I was ahead of schedule and went to find out if there was an earlier train to Bremen I could catch. The railway employee was in a foul mood and acted like a SOB but at least I found out how to travel on an hour earlier.
The train to Duisburg Hbf was hopelessly overcrowded but fortunately it was just a short ride. At the station I was supposed to have a wait time of ten minutes but thanks to Deutsche Bahn it became an hour. The perfect opportunity to grab a Kebab from the shop around the corner. Absolutely delightful, Aussies are masters on the BBQ but their Kebabs just suck.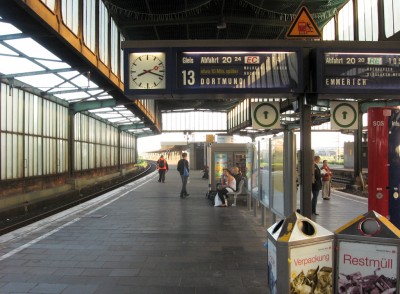 The train station was pretty dirty and people were noisy and drinking beer. After the spotless Bangkok stations this is as attractive as a crystal-meth hooker.
The ICE to Bremen was empty and I had enough space for all my luggage and two seats for myself. Nap time. The seats in that train were the most comfortable I sat on in a long time. My parents picked me up from the station, saving me from waiting another 45 minutes for a connecting train.
It's nice to be back.