Escaping the overpriced unattractiveness that is Vientiane, Hiro and I got on a northbound bus Friday morning. It usually takes about ten hours to get to Luang Prabang but we were up for an early delay. Not even two hours into the trip, our bus suddenly came of the road and stopped.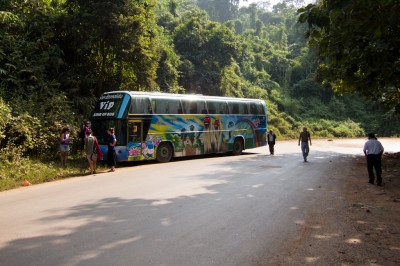 A quick look at the front wheels revealed a broken steering. Not something to be fixed quickly at the roadside. The staff started unloading the bus and we made camp in the shadows. Fortunately only 45 minutes later, the 9am bus came along. They had just enough vacant seats to fit everybody in.
4.5 hours after departing Vientiane, we reached Vang Vieng. The small town is a relaxed place with stunning views over limestone cliffs along the Mekong. It would be the perfect place to stop over for a night, but unfortunately it has become a Mecka for lowlifes from all parts of the world who get hammered on cheap whiskey and high on mushrooms and the local variant of meth. They have quite a lot of fatalities here because people like to go for a swim or float down the Mekong in a tube while being absolutely hammered. Would be illegal elsewhere but here it's an attempt to prove Darwin right.
We stopped for lunch at a roadhouse an hour or so outside town. The food we got was standard but outside were some specialities on offer. Bird anyone?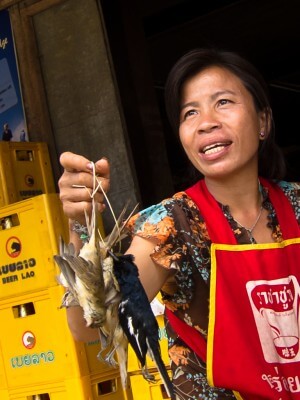 From here the road got really winding and took us up and down the mountains. They call it highway 13 but it's basically a disintegrating piece of pavement. The 250km to Luang Prabang took us seven hours, including the break. Yet as uncomfortable and endless as the drive was, the views were absolutely spectacular.