At some point in Australia my focus in travelling changed from seeing and doing a lot of nice stuff towards learning something about the country I'm in. In Cambodia Couchsurfing was very helpful for that and in Germany I met a lot of interesting people through the network as well.
Here in Scotland I wanted to give the 'original' couchsurfing a try, that is staying with a local and crashing on their couch or – in this case – spare beds. In Oban there is not really a lot of hosts but I found one who looked pretty interesting. The guy is living in an old lookout from WW2 and the view from his place is just stunning.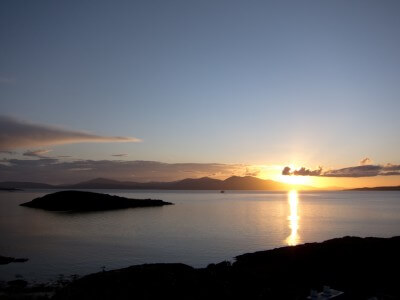 The rest of the place was so-so as the guy is quite a messy (and that's me saying that). We got along well enough though and on Wednesday went for a little hike through the coastal highlands. I forgot the name of the hill we went up but it was a nice walk and the top offered even more stunning views.
On the way back we got caught in a cloud and the visibility dropped rapidly. Good thing my host grew up in the area and has been up that hill countless times. On my own I might have gotten lost.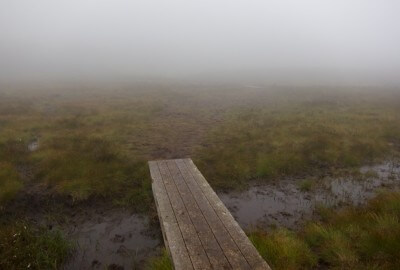 Now I'm in Edinburgh to catch my flight tomorrow morning. I have to be at the airport fairly early (5 am) and considered to just spend my last pounds on food and beer and sleep at the airport for a bit. Upon arrival I felt rather tired though and went for the next hostel. It's one of these YHA again.