It's 18:30 last night and the clashes have subsided. We head out to meet others for dinner in the city. A few metres down the road our eyes are watering and the noses are burning from tear gas that is drifting over from the 500m away conflict area.
We jump into the next taxi and tell the driver to take a detour around the affected Ras Al Jour area. No no he says, is fine, and rolls up the windows and stops the ventilation. Driving past the scene we see the road covered in rubble and rubbish with fires burning on the sides.
Israeli forces have used their usual arsenal of rubber bullets, tear gas and live ammunition, leaving one dead and more than 60 others injured. During the aftermath, people sit around, drink coffee and watch garbage men clean up the mess. After decades of Israeli occupation, people have pretty much seen it all.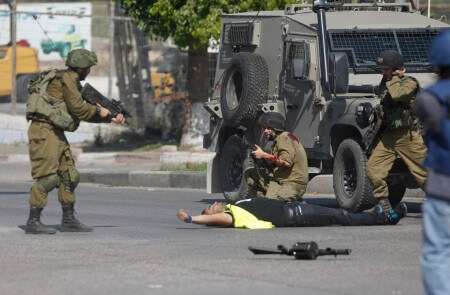 This morning an Israeli settler shot and killed a Palestinian teenager in the streets and two hours later another was killed in Jerusalem. Presumably the killers will walk free, as have all the others in the past. Absolutely disgusting – every Auschwitz victim would turn in their graves if they knew what Israel is doing today.
Escalation in the area seems likely. Left Hebron this morning, booked a flight to Berlin for tomorrow.