The northern part of Laos is still largely undeveloped and the road network reflects that. Going from Luang Prabang to the Thai border at Houay Xai by bus would mean 14 hours on dirt roads in a vehicle that is old twenty years ago.
A more pleasant alternative is to travel on the Mekong. Every day slow boats leave for the two-day trip that requires an overnight stay in Pakbeng. The boats are basically as dodgy as the buses but they are definitely more comfortable and if something goes awfully wrong, the river bank is never far away.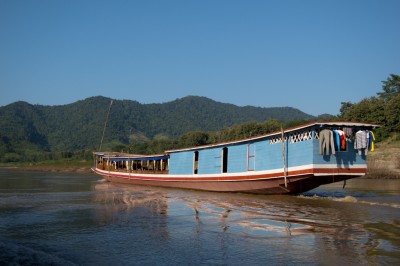 Even though they are called slow boats, they can go rather fast. Unfortunately the river does the same so the upstream journey takes significantly longer than the one downstream (10h vs. 6h). We were in for the long treat and had equipped us with water, lunch and snacks.
We left on time at 8:30 am with the boat not even half full. That was quite a fortunate thing as the boats can get extremely cramped. They follow the 'never full' approach that is common on the local buses and often leads to people sitting on their luggage in the aisle.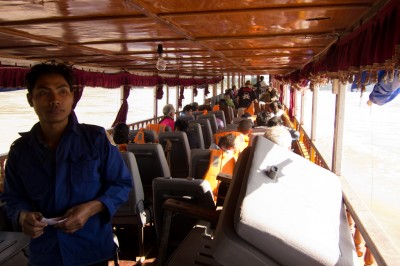 In case anybody is wondering: Yes, these are old car seats and yes, they have one life vest for every two seats.
When sitting around got too boring, I went to have a look around. In the back of the room is the 'engine room' and it looks as dodgy as the rest of the boat. They put some holy flower equipment on top of it, just to make sure. One of the guys also put some bananas and rice on it, not sure if that was for the gods or for his warm lunch.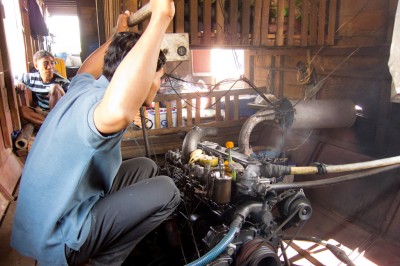 They take religion seriously here. Whenever we approached a more dangerous part of the river, where the stream was narrow and the currents strong, the captain's wife would throw sticky rice over board and make praying gestures. Very comforting.
Travelling the Mekong on this part of the river is considered to be one of the most beautiful cruises in SEA. The mountainous scenery is marvellous and every now and then a small village presents a bit of local life. Still, we were very happy when the setting sun announced the end of this day's trip.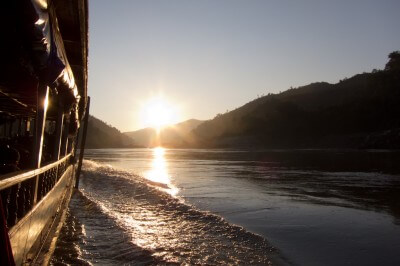 An hour after sunset, when the skipper was navigating solemnly with the aid of the fading twilight, we finally reach Pakbeng. The town's only right of existence is the boats' need for an overnight harbour. Nobody can travel the Mekong after dark and thus all passenger and cargo boats end up here. It is a dirty shit-hole and I can't imagine anybody wanting to stay here for longer.