At a quarter to seven I'm out of bed and sit at the breakfast table not much later. I go for fried rice, as for me rice is a proven classic for not getting hungry again too early.
The day ahead is likely to be the hardest of the whole trek. We'll walk for 7h and the only direction is up.
It's 8:00 when we leave the guest house and its amazing host behind. Not much later the steps start. They are coarse and uneven steps, made from heavy slabs of stone.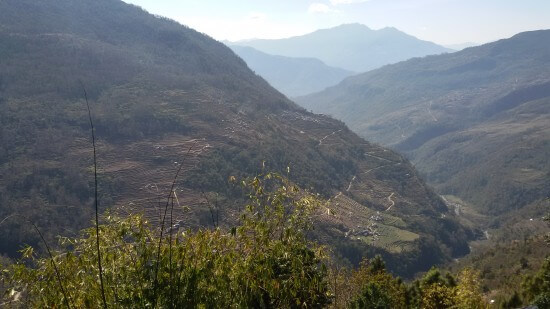 Two hours and countless steps later we reach Uleri. Short break, water refill and back on trek. I'm going for water purifier tablets these days, which allow me to drink local water and save a lot of money and plastic waste.
Finally, at 11:30, on 2300m, we reach the lunch stop. Dal Baht power, 24 hours. I'm  exhausted and doubt my ability to carry on. Everything in me screams to remain sitting in the warm sun and have another coffee. But Kamala has her bearings on and we resume at 12:30.
The path now leads through dense forest with moss covered trees. We have a couple of chats about life in Nepal and I learned that Kamala grew up in a village, got married at 19, become a mother at 20 and divorced her alcoholic husband five years later. She is my age and has now worked as a guide for a decade.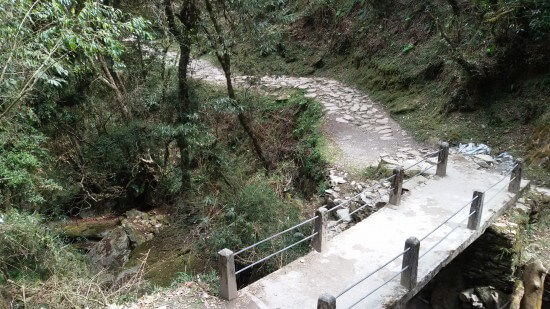 We still go up up up.
The inner muscles over my knees start cramping and I have to massage them every now and then. No other injuries on the eternal stair master.
16:00 Gorepani @ 2860m. Amazing views of Dhaulagiri 8167m. We can also see Kophra ridge (the one that leads into the clouds), our destination for day five.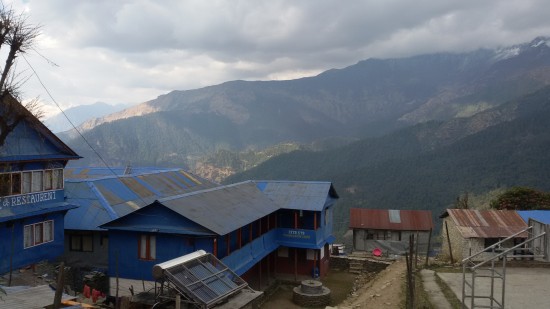 Hot shower, rest and more Dal Baht.